The Montessori Country School is a leading provider of Montessori education. Our school provides a first-class academic experience to students in an environment that is distinguished by its compassion, integrity and unwavering commitment to the individual child.
As a leading provider of Montessori education, with an uncompromising desire for excellence, The Montessori Country School delivers a rounded and complete Montessori education, building the foundation for the child's intellectual, emotional, social and physical development. Our strength lies in the expertise and dedication of our teachers and staff, in the uniqueness of our learning environment, and a constant desire to be the best.
Currently, The Montessori Country School is an accredited school with the C.C.M.A. We completed the process of becoming fully accredited by this organization in 2015. Since Montessori schools are not governed by a central body, nor is anyone prohibited from using the Montessori name, accreditation is an effective way for us to assure parents that Montessori Country School provides quality Montessori education.
---
All teaching staff, administration, support staff and outside consultants of the Montessori Country School are committed and dedicated to your family and the success of your child.
MCS Mission Statement
Through trusted partner relationships and an accredited, academic Montessori program, we enrich lives and empower each child to realize their individual potential with passion and confidence.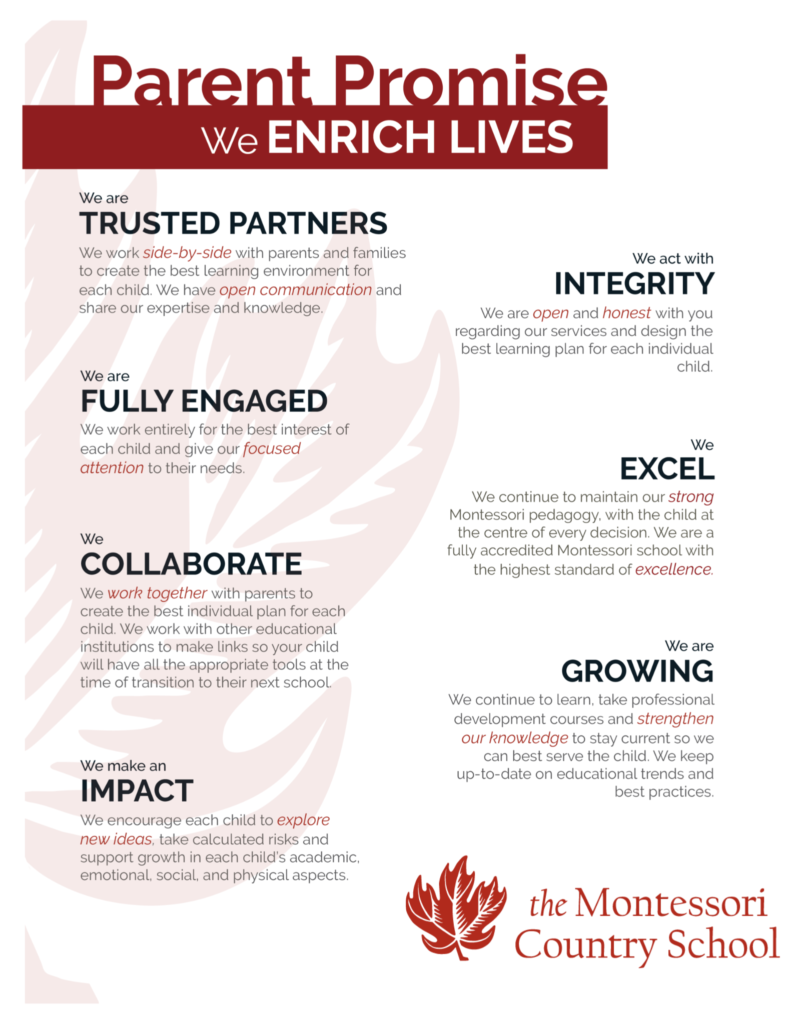 Our Community
At MCS we believe that your childs' education is one to be shaped by strong learning values, great teachers and important learning experiences. Being part of a small community allows teachers, students and families to form close bonds and wholeheartedly work together to develop and provide a strong and well founded education for your children. Through community events, celebrations, and learning experiences we provide a well rounded learning experience, setting the platform for our students to succeed.