Montessori Elementary Program
The Elementary Program – Ages 6 to 12 years
At this level, children become intellectual thinkers. Academic standards are high and while children are still progressing at their own pace, there are clearly defined expectations for each level. The Ministry of Education guidelines are used as a minimum for achievement but our own curriculum is defined in the 3 year age groupings that are integral to the Montessori philosophy. Specific components of the Ministry curriculum may not be covered in the same year, but rather over the 3 years of each level. As such, parents are encouraged to commit to the full 3 years when entering their child into both Lower and Upper Elementary.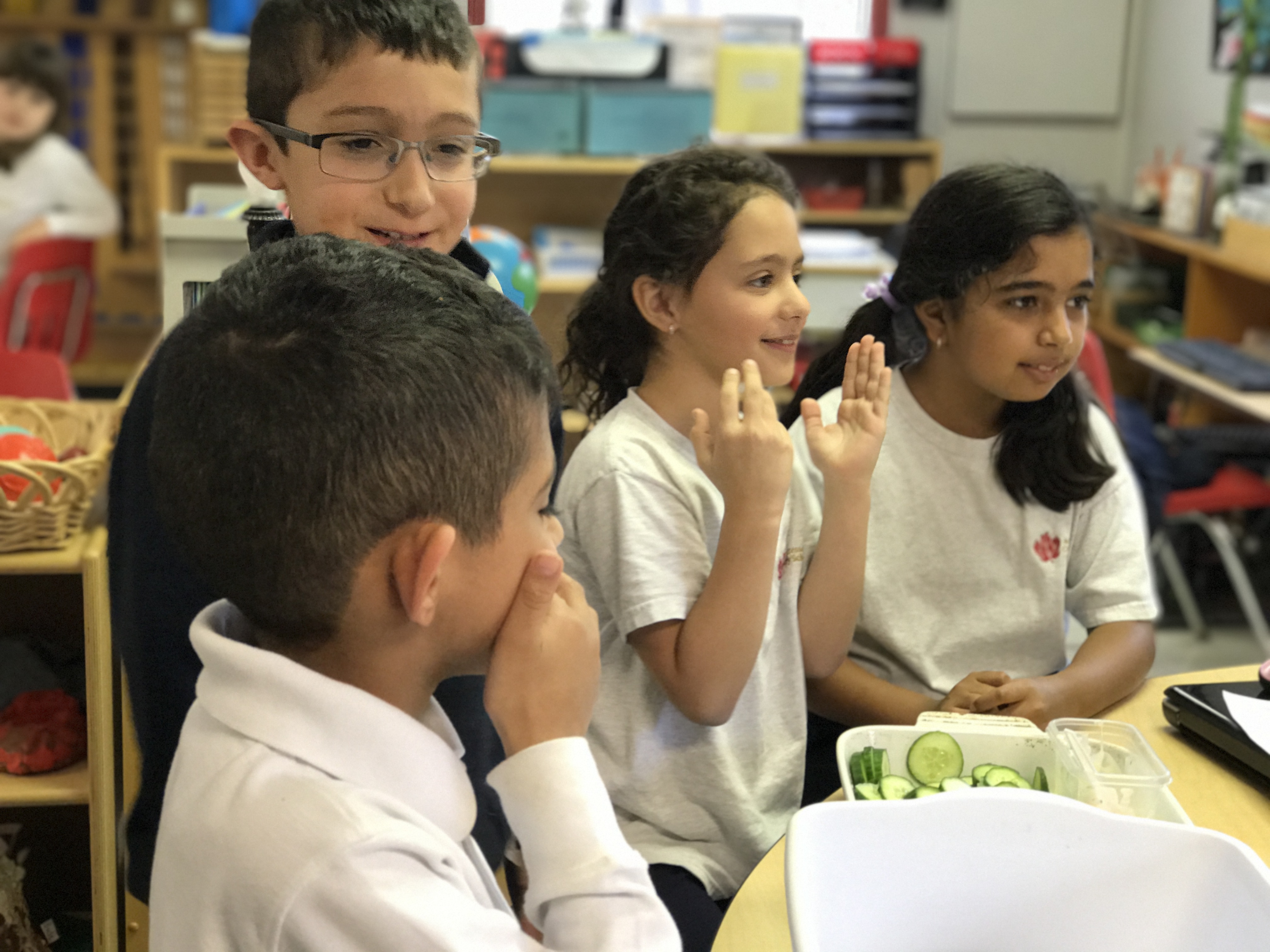 A solid understanding of each concept is first ensured through concrete experiences with the hands-on materials. The children then move on to work with more abstracted materials for these concepts, eventually leading to solid conceptual understanding. The Montessori materials are supplemented with the use of carefully selected workbooks, textbooks, reading and spelling programs and computer software. The result is a broad, integrated and comprehensive curriculum which gives the children an academic advantage and prepares them extremely well.
While there is a strong expectation to complete an appropriate amount of class work responsibly and thoroughly, the emphasis is still on the total development of the child. Children have the opportunity for self-expression to pursue their own interests and develop new ones through a rich and varied curriculum.
Most lessons are given to small groups or individuals so that diverse needs, interests and ability levels are easily accommodated. At the same time, daily evaluation and extensive record keeping on the child's progress enables the teacher to assess when a child is ready to move on to the next level of challenge. Thus, there is no limit to the child's accomplishments.
The 1:20 ratio ensures that all students receive the individual attention they require. The classroom teacher holds an undergraduate degree and a TMI/AMI/MACTE accredited Montessori Teaching Diploma. Specialist teachers provide instruction in French, Physical Education, Music, Art and Library.
The educational program is designed to maximize each student's academic success while, at the same time, teaching the student effective study and research skills and to adapt and learn from mistakes. The children learn to make responsible choices for themselves and discover how to contribute positively to the world and those around them. Their morals and values are nurtured, in part by The Virtues Project, with an emphasis on self-discipline and responsibility. The classroom community allows for the strengthening and refinement of social interactions as children learn to consider their own actions, to resolve their own conflicts peacefully and to use the group process for planning and problem solving.
The outcomes of the Elementary Program are as follows:
Academic Preparation; mastering one level of academic skills at a time, students apply themselves to increasingly challenging materials across various academic disciplines
Gain further autonomy and develop self-direction skills
Gain an intrinsic motivation, an internal desire to engage in an activity for enjoyment and satisfaction
Increased awareness of social responsibility
Develop further creativity and originality of thought
Growth in confidence and competence